How to use PaintNuts car paint aerosols
You can achieve good results using car paint aerosols to fix car panels and bumpers. Colour match aerosol paint is suitable for larger areas and more complex repairs that need to be blended into existing bodywork. If you want to blend in minor damage like a scratch or chip, opt for a precision pen or a bottle with brush. Our bodyshop-grade paint is an exact match to your car's original colour. Here's our best practice guide to using and applying touch-up car paint when using an aerosol.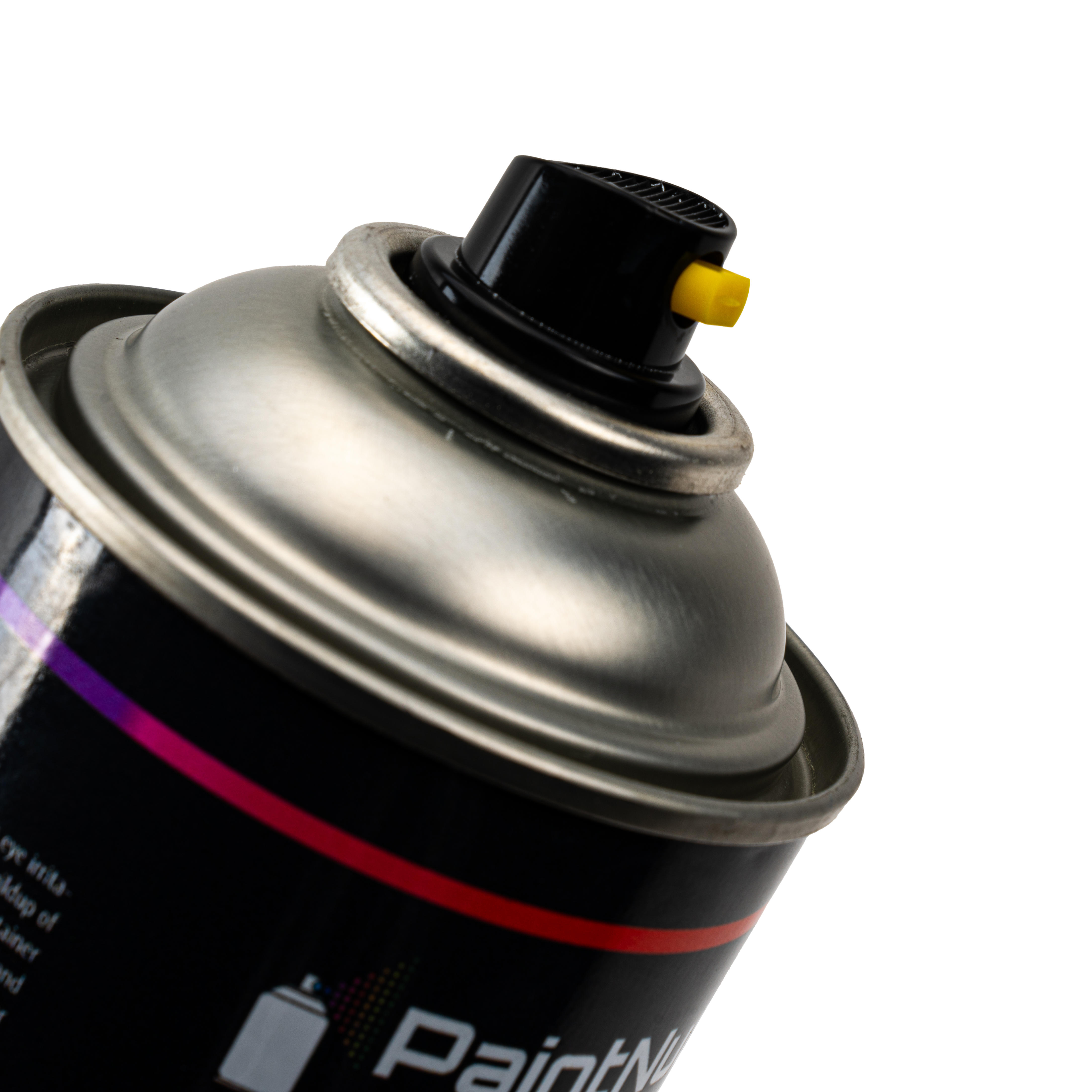 How to use the car paint aerosol
Prepare & Clean
Depending on your damage in most cases with car paint aerosol we would recommend using a Primer first.
Once you are ready to apply the paint start by flattening down the area using a wet and dry sandpaper to ensure any defects are diminished - we recommend the Norton Topcoat project pack.
The surface must be clean and dry - make sure all wax, polish and grease is removed. For best results use PaintNuts Panel Wipe Spray and Degreasing Cloth then a Sticky Tac Rag to remove any dust.
Shake & Test
Shake aerosol for 2-3 minutes to ensure the paint within the can is mixed.
Before applying the paint to the vehicle, we recommend testing the colour and which spray pattern you require, you can adjust the nozzle to spray horizontally or vertically.
On white card - check how many coats you require to match the original colour. Too few coats will look too light, too much paint/ too many coats will make the colour too dark.
Paint & Finish
Either vertically or horizontally apply in smooth cross coats 250mm distance from the repair.
Leave to dry for 15 minutes before applying a second coat if necessary and leave 4 hours before applying PaintNuts lacquer.
After use turn the aerosol upside down to empty nozzle valve to clean then it can be reused at a later date.
PLEASE NOTE: – Aerosols should not be applied in cold, damp weather – it will adversely affect the application, finish, and drying time.
The recommended minimum temperature for using spray paint is 15+ degrees, preferably room temperature indoors in a warm and well-ventilated area.
PaintNuts scratch and chip repair top tips
The Do's and Don'ts
Do – use a primer first if bare metal or plastic shows or in particularly deep scratches or chips.
Do – test the colour after giving it a good shake as different paints in the mixture weigh differently and will settle so colours in the bottle or pen can look misleading– it needs to be thoroughly shaken and tested in a discreet area to compare.
Do – use a lacquer if the paint is very metallic or pearlescent.
DO NOT - get paint on original undamaged paint work as it will make the colour darker drawing attention to the repaired area.
DO NOT –apply paint in cold, damp weather – it will affect the application and finish, especially with aerosols.
DO NOT – apply the paint too thick –to get the best results and avoid running drops it requires thin layers to build it up to original height.
DO NOT – wash your car with a power washer for the first week after touching up car paint work.